Teijin Frontier to partake in Premiere Vision Paris expo -Teijin Frontier Premiere Vision Paris expo
Teijin Frontier Premiere Vision Paris expo Teijin Frontier Premiere Vision Paris expo Teijin Frontier Premiere Vision Paris expo Teijin Frontier Premiere Vision Paris expo Teijin Frontier Premiere Vision Paris expo Teijin Frontier Premiere Vision Paris expo 
Teijin Frontier to partake in Premiere Vision Paris expo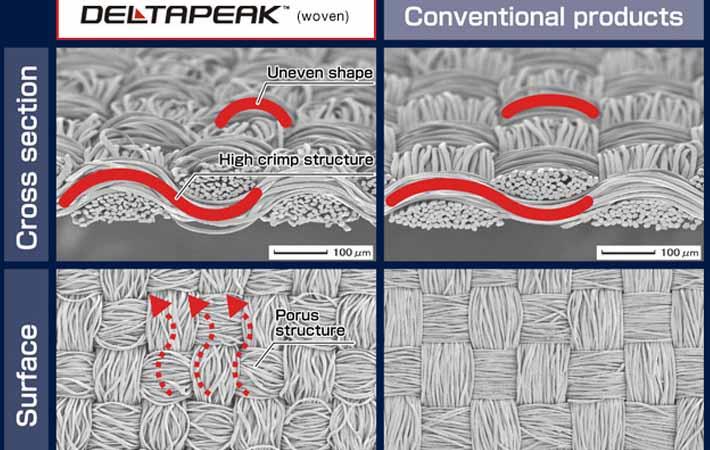 Teijin Frontier Co., Ltd., the fibres and products converting company of the technology-driven global group, Teijin, headquartered in Japan, has announced that it will participate in Premiere Vision Paris, a major global event for fashion industry professionals, to be held in Paris from September 19 to 21, 2017, in TEIJINTEX booth, stand 6G24/6H29.
The Teijin booth will feature fabrics made from two top quality materials SOLOTEX and DELTAPEAK, and will include a selection of materials designed for the Autumn/Winter 2018-19 season developed using advanced spinning-processing, yarn-processing, and finishing methods.
SOLOTEX is a polytrimethylene terephthalate fibre which, owing to its molecular structure, is soft, stretchable, shape-retaining, dimensionally stable, and brightly coloured. Several versions will be presented, including textiles with uneven surfaces, printed fabrics, and double-face fabrics, in addition to thin, transparent and lightweight fabrics, which are appealing as all-purpose fashion materials. The partially bio-derived SOLOTEX is also an environmentally-friendly choice for the future.
DELTAPEAK is a next-generation polyester fabric that combines excellent physical properties with high levels of functionality and quality. Thanks to its dense, flat-knit surface, DELTAPEAK is a wonderfully multifunctional material that is rated highly and adopted by a number of global sports-apparel brands. The booth will present a bulky, light and extra-soft 4-dimentional DELTAPEAK material as the latest addition to the Teijin Frontier's DELTAPEAK series, and highly functional nylon-based DELTAPEAK, both of which are excellent choices for use in athleisure-type fashionwear. (GK)
Fibre2Fashion News Desk – India
Please follow and like us: