Polyester plant to resume operations in April – The fibre plant is one of the 12 loss-making projects under the Ministry of Industry and Trade –  Polyester plant PVTex - Arhive
Polyester plant PVTex Polyester plant PVTex  Polyester plant PVTex  Polyester plant PVTex  Polyester plant PVTex  Polyester plant PVTex  Polyester plant PVTex  Polyester plant PVTex  Polyester plant PVTex  Polyester plant PVTex  
 

Polyester plant to resume operations in April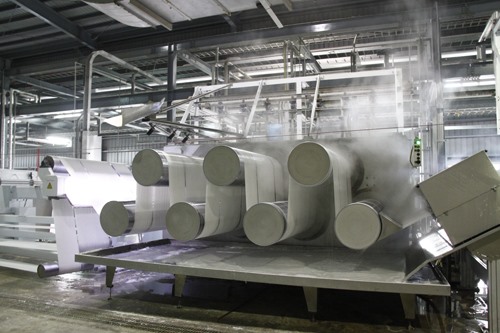 The re-opening of the plant is in line with the government's directive to tackle shortcomings and weaknesses of some inefficient and loss-making projects and enterprises. — Photo baocongthuong.com.vn
Viet Nam NewsHÀ NỘI – The Đình Vũ Polyester Fibre Plant (PVTex) will resume the operation of three production lines on April 18, targeting an output of 189 tonnes of yarn in the first month.
The fibre plant is one of the 12 loss-making projects under the Ministry of Industry and Trade. The re-opening of the plant is in line with the government's directive to tackle shortcomings and weaknesses of some inefficient and loss-making projects and enterprises.
Đào Văn Ngọc, PVTex chairman, said after adjusting and evaluating the quality of the yarn, PVTex would officially operate three yarn spinning lines with the support of Germany's Bamag experts, which provides copyrights for yarn manufacturing equipment.
The plant had a test run on April 10.
PVTex's yarns will be tailor-made to suit the market and meet physical requirements, such as thinness, fabric elongation and elastic force. Some initial experiments at the plant's laboratory showed that PVTex's products met the quality obligation.
PVTex, a subsidiary of PetroVietnam with a total investment capital of US$325 million, started commercial operations in May 2014, with a capacity of 236 tonnes of fibre per day, reaching 48 per cent of the designed capacity.
The plant halted operations in September 2015 owing to a huge loss of VNĐ1.26 trillion ($55.3 million) and negative equity of VNĐ504 billion.
It was scheduled to restart in 2016 but failed to do so and remained closed. The competent authority would have considered bankruptcy of the factory if the equitisation or divestiture of the enterprise were unsuccessful. – VNS
Related Topics
Vietnam textile exports to China rising – Vietnam's rising textile exports to China is a promising sign, although it remains to be a big importer of textile feedstock and accessories from China – Vietnam textile exports China
Please follow and like us: