HeiQ, Deakin develop treatment to reduce pilling – HeiQ, Deakin treatment pilling
HeiQ, Deakin treatment pilling HeiQ, Deakin treatment pilling   HeiQ, Deakin treatment pilling   HeiQ, Deakin treatment pilling   HeiQ, Deakin treatment pilling   HeiQ, Deakin treatment pilling   HeiQ, Deakin treatment pilling   HeiQ, Deakin treatment pilling  
HeiQ, Deakin develop treatment to reduce pilling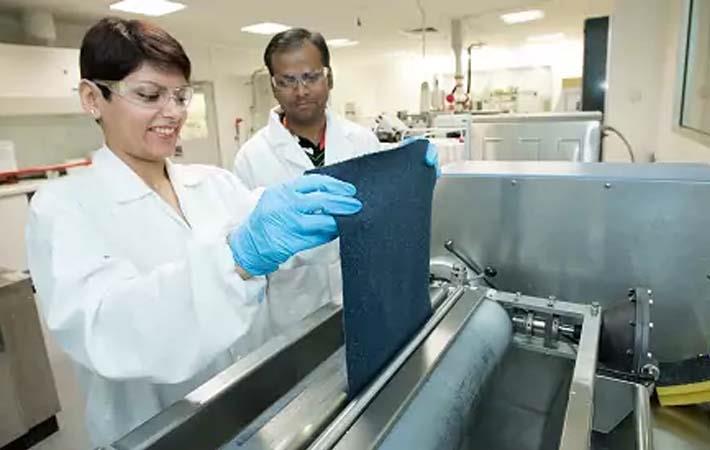 Textile innovators at HeiQ in collaboration with scientists from Deakin University's Institute for Frontier Materials (IFM) have developed a textile treatment that reduce pilling and makes garments look and feel newer for longer. No Fuzz is the second product to come out of this collaboration, after the 2016 release of the HeiQ Real Silk textile treatment.
Working collaboratively under the framework of the ARC Research Hub for Future Fibres the partners have developed a range of "No Fuzz" treatments that reduce unsightly pilling and make garments look and feel newer for longer.
IFM senior research fellow Dr. Alessandra Sutti said pilling was caused by friction, as loose fibres in the material rub together and become tangled, forming annoying fuzzy balls.
"The key to avoiding pilling is to either remove fluffy fibres or to stabilise the fabric structure so fibres can't easily loosen and tangle," Sutti said.
"HeiQ's No Fuzz technology bridges the gaps and strengthens loose fibres with adhesive polymer structures, reinforcing fabric yarns and resulting in a significant improvement against pilling."
HeiQ Australia chief executive Dr. Murray Height, co-founder of HeiQ Materials, said pilling and abrasion resistance in general was one of the biggest problems affecting clothing, especially when it came to staple fibre textiles such as wool and natural/synthetic blends.
"The need for an off-the-shelf treatment that can be applied to any fabric without noticeable impact on its feel or appearance has been discussed since the early days of the IFM/HeiQ partnership," Height said.
"The textiles industry has tried to deal with this issue for years, but none of the current methods are entirely satisfactory – most fabric-based treatments result in an unpleasant feel to the fabric and reduced comfort," Height added.
Sutti said the HeiQ NoFuzz treatment helped to make clothing more robust to wear and tear, thereby playing a role in extending the useful lifetime of garments.
"This treatment can be used on all fibre types, but it has been shown to be particularly effective on spun yarns and natural/synthetic blends, and we're using materials that reinforce component yarns within the main fabric structure," she said.
Sutti said she and her team were committed to working with HeiQ on a range of projects to improve the performance and sustainability of textiles. "Our collaboration covers a wide range of topics, from the development of the short polymer fibre platform all the way through to the implementation of new technologies in textile treatments," she said.
This research was supported by the ARC Research Hub for Future Fibres. (SV)
Fibre2Fashion News Desk – India
Related Topics
-HeiQ shows Fresh FFL odour control technology at ISPO – HeiQ, a leader in textile innovation making effective, durable, and high-performance textile effects in the market, is displaying its HeiQ Fresh FFL (Fresh For Long), a 100 per cent bio-based odour control technology – HeiQ Fresh FFL odour control technology ISPO
–HeiQ to show No Fuzz textile products at Performance Days – HeiQ NoFuzz textile Performance Days
Please follow and like us: